Shaun T, Creator Of Insanity
Who is Shaun T you ask? He is the creator of the Insanity workout program as well as many other popular Beachbody workout programs which you can find listed below. Shaun T and Insanity go hand-in-hand. Born 2 May, 1977, he is currently living in New York City. He was raised in Deptford, New Jersey, where he played football, baseball and ran track throughout his youth.
Education #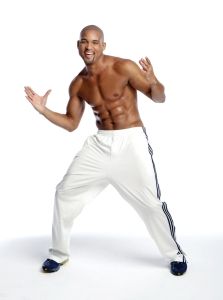 Shaun later studied sports science (minoring in theater and dance) at Rowan University in New Jersey. This decision was made after gaining 50 pounds in his first year in college. Wanting to get back in shape, he decided to study fitness. At the age of 21, Shaun was required to teach an aerobics class as a requirement of completing his degree. This led to his interest and further study of dance.
Professional Life #
He began his career as a fitness specialist and program manager at Wyeth. However, after graduating he moved to Los Angeles where he hoped to find work combining his various interests of fitness, dance and choreography. He found his first work as a dancer for Mariah Carey and as a trainer/instructor for Equinox FItness.
In addition, Shaun has appeared in the following:
Beauty Shop (Queen Latifah movie)
Six Feet Under (HBO Series)
BBC America (Cable network)
The Tonight Show with Jay Leno (late night talk show)
He has also danced with the following notable artists:
Nick and Aaron Carter
Mariah Carey
Elephant Man
Shaun T and Insanity #
It was while teaching at Equinox Fitness that he was approached by Beachbody. The rest is history! Since 2007, Shaun T. has created and distributed the following fitness programs (in order of creation date) with the help of Beachbody and their vast network:
Hip Hop Abs
Get Real With Shaun T
Shaun T's Fit Kids Club
Rockin' Body
Insanity
Insanity: The Asylum
Insanity: The Asylum Volume 2 – Elite Training Series
Focus T25
On The Internet #
You can find Shaun T on Twitter at https://twitter.com/shauntfitness
He is also on Facebook at https://www.facebook.com/shauntfitness
We can't forget Youtube at https://www.youtube.com/user/shauntfitness
And lastly, his website at http://www.shauntfitness.com
As I work my way through the Insanity program, I will keep this page updated with any new information I come across.