So this is it… Round one of Insanity is over! And while I would love to be here saying how strongly I finished up Insanity week 8, unfortunately I can't. After completely failing week seven, I just couldn't bring myself to give this last week my all. This past week has been an unfortunate end to an otherwise awesome two months. Unfortunately, I will not be able make up for it since I will be traveling over the next two weeks. I will not have the time or even a reasonable workout space to keep going. However, I still saw some great results overall and am already thinking about doing a second round!
I won't go into too much detail right now since I want to put together a final Insanity review post, but let's just say I never really got back on my feet after the events of last week. To top it off, with my sister on her way into town to travel with me to Machu Picchu, I have spent quite a bit of time preparing.
In any case, I will save my final results for a separate post as I stated and just take today to give you a brief overview of the final week of Insanity.
Insanity Week 8 In Review #
Insanity week 8 looks like this:

Day 57: Max Interval Plyo
Day 58: Max Cardio Conditioning & Cardio Abs
Day 59: Max Interval Circuit
Day 60: Core Cardio and Balance
Day 61: Max Interval Plyo
Day 62: Max Cardio Conditioning & Cardio Abs
Day 63: Fit Test
And being my last and final day of Insanity, I also took my after body measurements and photos. I am definitely happy with the results but, once again, I will be writing up an entirely separate post to share those with you.
Final Thoughts On The Workout #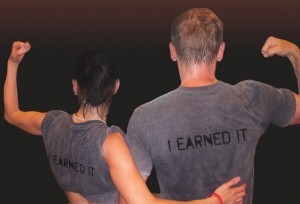 I will save most of the details for a separate post dedicated to my final review of the program, but I would like to say that 63 days later, I think this workout has been great. It provided me with an easy to follow routine, required no equipment and no gym and was an all around fun experience. And while my results were not nearly as dramatic as most of what you see around the web (not that I was expecting them to be), they were still very awesome results! And now it is time to get my (hard earned) t-shirt!
If you came here looking help deciding whether or not to try Insanity, I have to say (most likely) yes! I will post a full review with all of the details shortly.
Until next time!