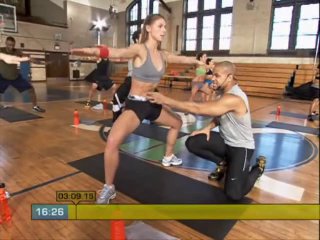 My first month of Insanity has passed by as if it were nothing, and I am proud to say that my 30 day results are nothing short of awesome! Insanity week 6 marks the official start of month 2, and as I mentioned recently, am incredibly excited. Both the length and intensity of the workouts are about to ramp up which hopefully means ramped up results. That said, I am still pretty low on motivation at the moment. So far I have been sick for the better part of a week and like an idiot I drank so much tequila over the weekend that I still haven't fully recovered. But I am doing my best to not let it beat me down and to continue to push through. In addition, I have slightly modified my original diet plan, which you can read about here. But the gist of it is that I am calling it quits with the intermittent fasting so that I can eat a small meal first thing in the morning to provide me with that little extra bit of energy I need to complete my workouts.
As far as Insanity week 6 is concerned, I did alright… Unfortunately I seem to have gotten into the habit of missing one workout a week, and this week it was Saturday. At this point I am all but certain that I will be coming back in the near future for a second round of Insanity, and when I do, I will do a better job of keeping to the schedule. But for now I'll work with what I've got. So lets get on with the week 6 review.
Insanity Week 6: Week In Review #
Insanity week 6 looks like this:

Day 43: Max cardio conditioning
Day 44: Max interval circuit
Day 45: Max interval plyo
Day 46: Max recovery
Day 47: Max cardio conditioning and cardio abs*
Day 48: Core cardio and balance*
Day 49: Rest
Being 6 weeks into Insanity, I have written up a pretty thorough description of every single workout in the program with the exception of the two deluxe workouts. So I won't be going into too much detail on this update but instead will just be covering my thoughts for each day. And since I wasn't up to the challenge that these two deluxe workouts posed this week, I am going to skip them altogether until I come back for round two of Insanity. So with that out of the way, let's get into:
Monday: Max Cardio Conditioning #
Last week I reported that this was just another workout – no more difficult than any of the other workouts I have completed to date. However, as my cardio strength and endurance increases, I find myself liking this workout more and more… I still struggle to keep going the whole time without stopping and those damn diamond jumps are near impossible. But just seeing where I am at compared to only a few weeks ago is amazing.
Tuesday: Max Interval Circuit #
Words can't fully express just how much better it felt this time around than it did last week. Maybe it is related to diet, maybe I was just having a bad day last time or maybe it was all in my head. But this is great news because I was worried I might not make it through to the end after how I felt last week. Despite being so much easier this week, I am still struggling to push myself to keep going. At the end of month 1, for example, I was just naturally pushing harder every day. But now I find myself wanting to quit – I have to keep telling myself that I have almost made it through, now is not the time to quit.
Wednesday: Max Interval Plyo #
As always, I love the chest and tricep workouts. I did a bit better this week compared to last week, but I am still nowhere close to keeping pace on the level 3 drills. I am definitely looking forward to the potential results from this workout more than any other, so stay tuned…
Thursday: Max Recovery #
As you would probably expect by now, this is no true recovery day. A bunch of stretching… and holding… which left me sore and shaky.
Friday: Max Cardio Conditioning and Cardio Abs #
Max cardio conditioning was about the same as it was on Monday, and then I tried to top it off with insane abs. While I did complete it, only barely. My abs aren't nearly tough enough yet. Plus I was exhausted from the first workout! For round two of Insanity you can bet your ass I will be doing Insane abs all the way through but next week I am switching back to cardio abs.
Saturday: Core Cardio and Balance #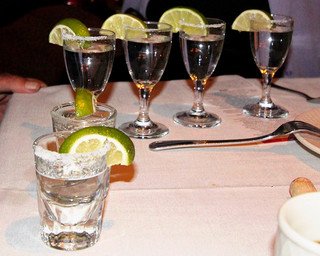 This was the day that I skipped… It started with soccer and beer which led to tequila which led to more beer and the next thing you know I was out cold. It was a nice day though.
I had intended to do Max interval sports training instead of core cardio and balance per the deluxe calendar… But after the hell that was Insane abs I think I am going to stick with core cardio and balance and save the other one for next time.
Sunday: Rest #
Unfortunately I have not been feeling the greatest this week. And yesterday's events did nothing to improve this. I spent most of today lounging around feeling awful. Talk about a wasted day…
Final Thoughts For The Week #
I am beat after Insanity week 6! I tried to do the deluxe workouts and I think they are going to be too much for me at this point. I will be sticking to the regular workouts for this go-round. In addition, I was still feeling sick on Monday and Tuesday after the incident last Saturday. And to make matters worse, I am feeling sick once again at the end of Insanity week 6. I am putting my body through a hellish blend of Insanity, booze and unfamiliar foods that it doesn't know what to do with. I may need to reconsider the way I am doing life…
What About You? #
Are your eady to take the Insanity challenge with me? Or maybe you are already into Insanity week 6 with me? Let me know how it is going in the comments below. And as always, feel free to ask any questions you have about the workout and I will do my best to answer them all.
Until next time!